A sweet and relaxing experience pampered by nature, good food, comfortable and quiet …
Whatever type of accommodation you choose at Camping Village le Rocchette, you will be assured of quality comfort and relaxation. In the silence of a centuries-old pine forest a few steps from the splendid Rocchette beach, you can visit a coast of undisputed beauty and scenic value. Inside the structure there is a swimming pool with jacuzzi, surrounded by comfortable deckchairs and sun beds, with fee. There is also a bar by the pool, where you can refresh yourself with drinks, ice creams, snacks and much more. For surprising lunches and dinners you can choose the excellent and varied cuisine of the Mama restaurant, which will delight you with typical Tuscan specialties and Mediterranean cuisine.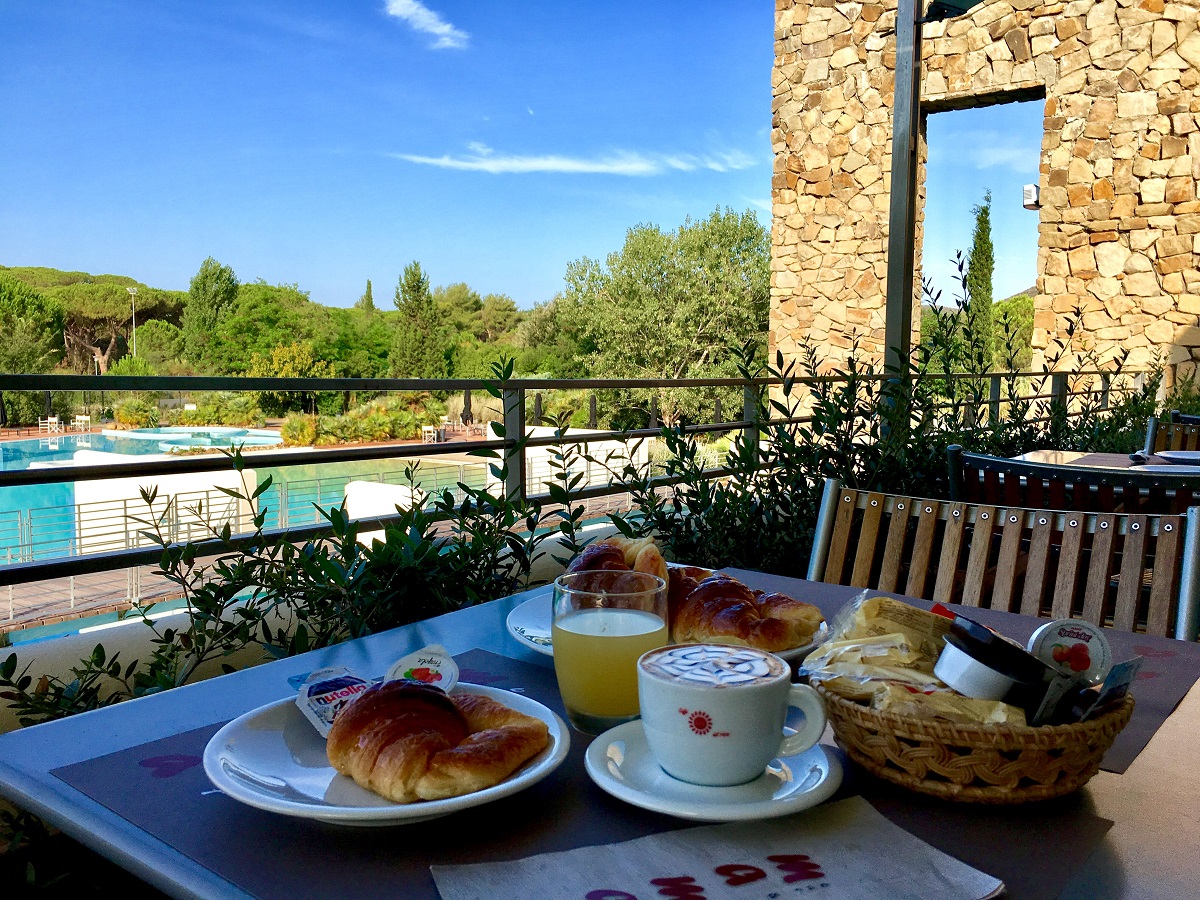 Breakfast at the pool – Rocchette Camping Village
Islands and Tuscan beaches
The Tuscan archipelago consists of seven magnificent pearls, which the goddess of beauty Aphrodite jet in the sea, giving rise to the seven wonderful islands, can be visited with short trips. From Castiglione della Pescaia there are many possibilities among which you can choose to visit the major islands. We recommend the island of Elba, the largest of the islands, the most varied for landscapes, rich in history and culture. You can walk on beautiful sandy beaches like that of Fetovaia or on small strips of white pebble coast in Portoferraio, immersed in crystal clear waters. Rich in history, witnessing an ancient and glorious past, you can visit archaeological and mining parks, historical buildings, fortresses and castles.
Between relaxation and new discoveries
Moving a few kilometres you can immerse yourself in the thermal springs of sulphurous water of Saturnia, known since ancient times for the multiple healing abilities and for the physical and mental well-being they offer. Worth noting is the Mulino Waterfalls, free and accessible throughout the year.
Finally, we would like to point out the garden of sounds, which can only be visited by appointment, a unique work of its kind. An immense garden, where there are the works of the German artist Paul Fuchs, made mostly in iron, cast iron and steel, some also in stone and wood. The gigantic works emit different sound waves according to the intensity of the blowing wind, giving the visitor an exciting journey through art and nature.